Introducing the new Jimmy Jib base. Born out of demand for a simple design with reliable steering both on and off-road, which also caters for an easier transition between the ground and track. Most Jimmy Jib owners already have two bases, so to avoid carrying around yet another base, I decided to considerably modify the existing four-wheel base. The result is a very capable, reliable, sturdy design that has been load tested to 1200kg and throughly put through its paces in the field on a variety of different productions. Demo video and more photos below.
Jimmy Jib Pro Base - Pros & Cons
Pros
fast setup, no tools required - everything is quick release

utilises your existing four wheel base frame*

stable four wheel design with two wheel steering via a strong steering handle and rack. It actually moves in a straight line! AND turns corners! AND the wheels dont get knocked out of allignment even if it goes over a stone or a rut.

the option of 12" solid rubber wheels - most suitable for multiple moves on flat concrete studio floors, and 12" or 16" pneumatic wheels (you can of course have all options!) with a deep tread make light work of most environments from a smooth studio floor to tarmac, concrete, gravel, sand, grass or a muddy field. Quick release design facilitates easy removal or replacement of a wheel even while carrying the load of a crane

strong repositional and removable levelling legs which can be adjusted by hand or via the same 19mm socket you already use for building the Jimmy Jib arm.

transfer the base with a fully built crane on and off track without the need to rerig

use your original track wheels negating the need for buying more kit

each new base is supplied serial number stamped and with a load test certificate

the base can still be dismantled for shipping

designed to be stored upright with wheels still attached in a VW Transporter

no branding, I am not branding the new bases so each customer can label it under their company branding

no waiting! you bring your four wheel base frame (we do not require the wheels, steering handle or cables) and subject to our inspection, we take your base and sell you a base thats already converted (subject to stock levels). By adopting this exchange method I aim to avoid you being without a base for any length of time and keep the total sale price down by utilising existing materials and fabrication. If you'd prefer that your own base is converted thats not a problem, there will just be a short delay while the work is carried out.

A rental/demo unit is available for you to try out or utilise while your base is being converted.
Cons
as far as I can see there really arent any, you just end up with a better base that'll make your shoot more enjoyable and easier

yes you part with a bit of cash, but you could always add a token charge for the base on each job - after all, which production company is going to begrudge a little extra if it saves them time on the day and is a safer base to use - it'll pay for itself in no time!
Please note:
*you will not be able to revert the four wheel base frame back to its original form after the modifications have been applied. These are recycled frames so do not expect them to be shiny and new. If you wish to respray them thats up to you, to keep the cost as low as possible only the new parts are anodised.
*I am not a major manufacturer, this is a simple service to help out those in the industry. There is no warranty but i will do my best to rectify any defect which upon receipt you are not happy with. I thoroughly inspect each base before collection to ensure its up to the job and is in a condition i would be happy to receive myself.
NB: optional Jimmy Jib track run-up section avilable at additional cost
New batch of Jimmy Jib Pro Bases ready for collection
Jimmy Jib Pro Base on track and on location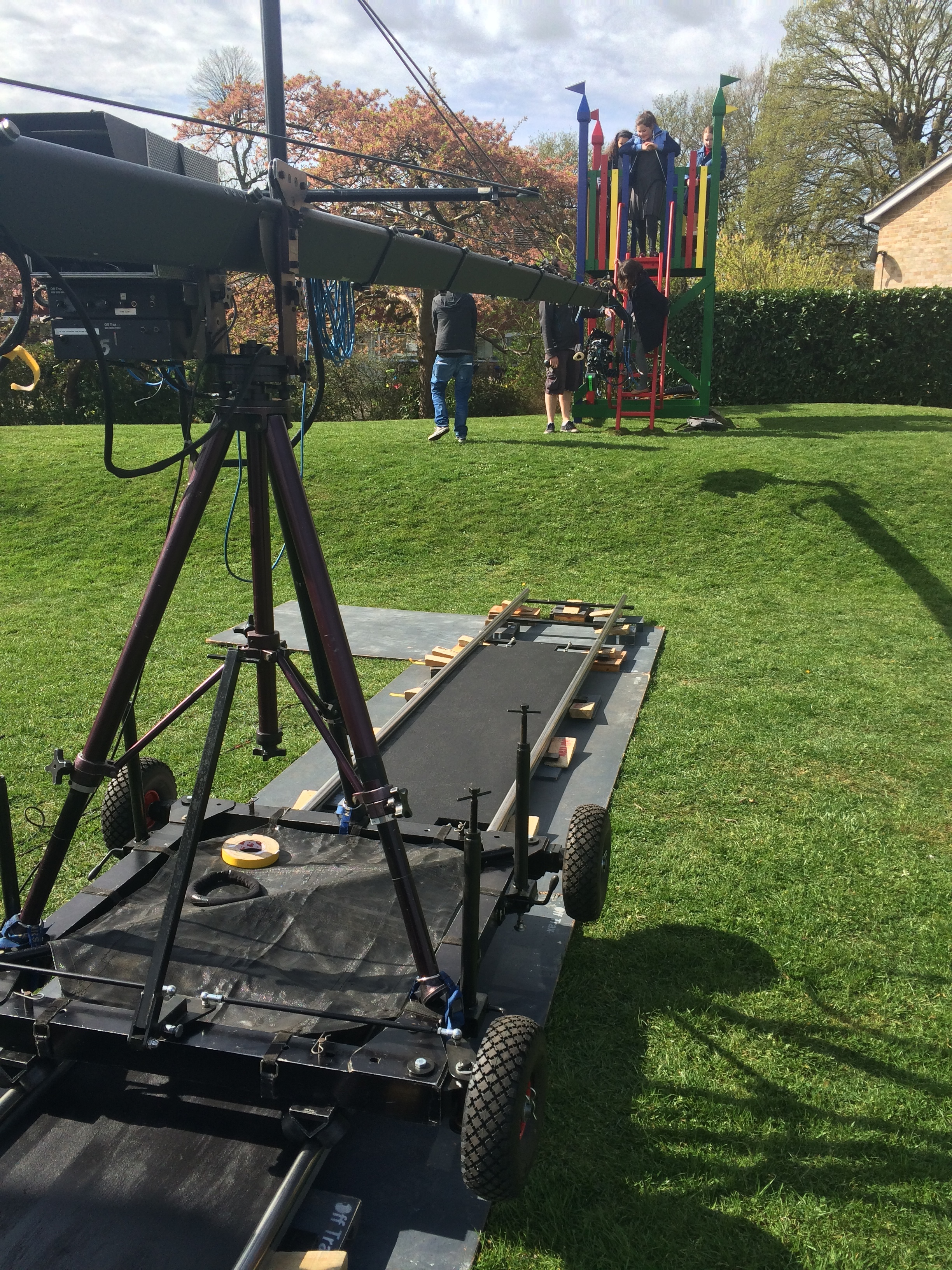 Please note
the telephone number at the end of the demo video is now incorrect , please get in touch through my contact page.
while you can still raise and lower the base on its levelling legs to slide the lightweight Jimmy Jib track underneath, i now sell a run-up section for the Jimmy Jib track which enables you to do just that, run-up and roll off - ridiculously simple and efficient.